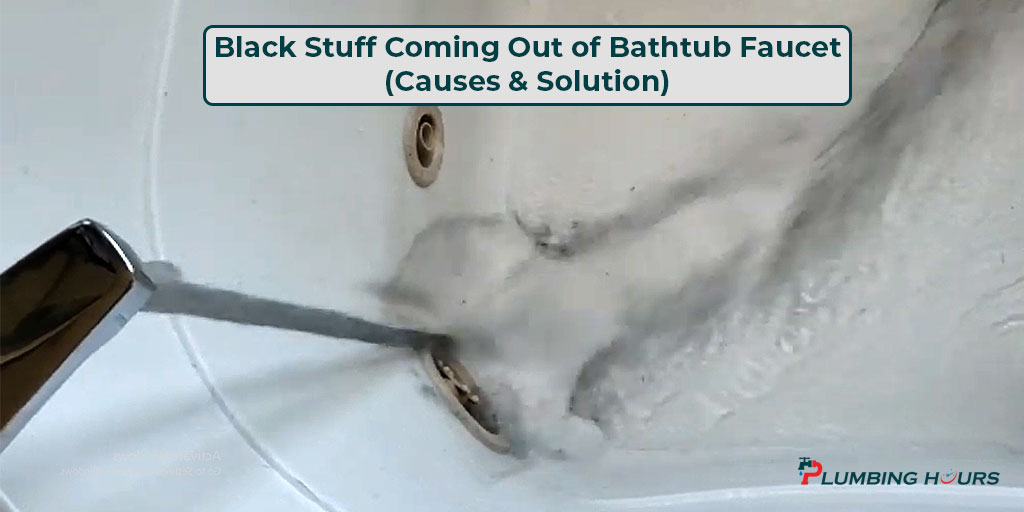 After a long day, you've planned to draw a bubble bath, prepared your essential oils and salts, made a soothing playlist to enjoy a long time in the tub. At that moment, what would you do if you see black specks in the bath water?
I don't know about anybody else, but I would be pretty devastated. It's not just about weekly bathing sessions; nobody loves to see black stuff coming out of faucet during any time of the day!
But why this problem occurs? And is there any way to fix this issue? Well, that's what this article is all about!
Here I will tell you what makes black water black and how you can prevent it. So without wasting much time, let's dive into that part right away!
Black Stuff Coming Out of Bathtub Faucets – Why Are the Causes?
Poor water quality is an ongoing issue in many areas. Still, most of us are getting clear and pristine water from our municipal water supply or well system.
Still, you may see some black water coming from the faucet. And it can happen due to many reasons. Let me tell you about some common causes that can be responsible for this problem. Don't worry; I will give you the solutions too!
So let's start with identifying the issues first, shall we?
Mineral Deposits
If you're wondering, "Why is black water coming out of the tub faucet?" most of the time answer is mineral deposits. Our home water supply tends to collect some common minerals such as magnesium, manganese, and iron on a regular basis. And over time, there is a huge buildup of these elements in your plumbing system.
When these minerals oxidize while coming out the tap, they become black and make the water stream look dirty. So yes, if you are seeing black water coming out of a faucet, this might be the reason.
However, these mineral sediments aren't toxic, which is good news. And there are plenty of ways to eliminate this problem. We will talk about that later!
Rusty Pipes
If the home plumbing system pipes have become rusty, you will see your tub faucet sputtering brown water. Yes, most of the time, the rusty water appears to be brown, red or dirty orange, but sometimes it becomes black due to excessive buildups.
Metallic pipes such as steel, copper, irons, and galvanized with a layer of zinc are vulnerable to rusting. But how do you know that the black residue in water is happening because of this problem?
If rusty pipes are the culprits behind this, you will see flaky and hard particles in the discolored water. Hence, if you see excessive black stuff in water pipes, get the plumbing system repaired or replaced as soon as possible.
Mildew Growth
When it isn't rust or mineral buildups, the reason behind black flakes in water can be due to mildew growth. And suppose you have any suspicion that this might be the cause. In that case, you need to consult a professional as soon as possible.
Mildews can spread in a super-fast motion, so you need to act according to that. Furthermore, mildew-infested water is detrimental to your health; hence, you need to get rid of it promptly.
Sand or Clay Particles
Having sand and clay particles in the home plumbing system can also darken your regular water. It mostly happens when you get your water supply from a private well.
Black sediment in well water can be removed based on the well's type. If you have sandstone well, just set up a liner into the wall. And for gravel wells, installing a screen will prevent the clay from getting into your water system.
However, if you already have a screen and getting dirty water all the time, try replacing the screen with a new one. In this way, you won't have to feel disgusted every time you turn on the faucet!
Damaged Filter System
Many water filtration systems utilize activated carbon in their cartridges. It makes the water taste and odorless and keeps it clear. But over time, this purification system gets damaged, and you will see black particles in the water.
But when it happens, you can easily solve this problem; you don't have to study the big band theory for that. All you have to do is replace the filter cartridge with a new one, and you are good to go!
Disintegrated Rubber
So if your plumbing system has any disintegrated rubber in it, you won't see any hardened black flakes coming out of the faucet. Instead, there will be some kind of gooey and slimy residue. It sounds filthy, I know.
When the chlorine used for disinfecting the water starts to corrode the rubber part of your home plumbing system, to solve this problem, you need to get a professional plumber and replace the damaged part.
And the good news is now you can get pipes that are resistant to water disinfectant.
Sediment in the Heater
Sometimes you will see that the black water isn't coming from your kitchen faucet, but your tub is full of filthy water. Why does it happen?
One of the possible reasons could be sediment buildup in your water heating system. As the bathtub faucet has more water pressure than any other spigot in your house, you are most likely to face this problem.
However, you can easily avert this issue by performing routine maintenance of your water heater. In this way, you can easily solve this issue.
Faulty Water Softener
Suppose you have bought a water softener to reduce Magnesium buildup but still black or orange water coming out of the faucet. In that case, it means that the device has stopped working. By fixing the machine, you can put an end to this issue.
Moreover, if you don't maintain your softener device regularly, the resin beads that help keep the water pure will start darkening the stream. Hence, keep checking on your machine do proper maintenance to keep it running well!
How to Stop Black Water from Coming Out of a Bathtub Faucet?
If there is a problem, you can have a solution. Some of them might be trickier than others, but it doesn't really take much time or energy, to be honest.
So here is how you can prevent black flakes coming out of a faucet. Yes, not just your tubs, but also any fixture you have around your house.
Inspect Your Plumbing System
Even when there isn't any problem, you should keep checking your home plumbing system once in a while. If you think it's too much work for you, just hire a professional plumber and be done with it!
In this way, you can prevent many damages such as corroding rubber parts, rusty pipes, and so on.
Moreover, this regular inspection will allow you to detect damaged parts at the moment when they start to get bad. And you can fix them right away instead of replacing the whole system.
Get Pipes with Less Rubbery Parts
As you know that the rubber-made parts of your water system are one of the culprits that cause black water from faucets. Besides water disinfectant, the hot water stream is another reason behind this damage.
Therefore, try to buy plumbing supplies that come with fewer rubber components. In this way, you won't have to deal with black slime and clean your tub almost every day.
Replace Your Water Filtration System
Changing the water filtration cartridges regularly helps you to keep your water clean. Hence, you should maintain a routine and change those cartridges according to that.
Most purification system comes with a warning that tells you how long it will absorb the filth from your water. However, if your water system has excessive dirt, the filters won't work for the whole recommended time.
Thus, you should replace the cartridges before you cross the suggested period. It will allow you to have better quality water all the time.
Get a Water Softener
Getting a water softener will help you prevent magnesium and iron buildup. And that's pretty necessary. But some of you may ask, "Are water softener resin beads toxic?"
Of course, the answer is negative! These beads aren't toxic at all! These resins are sodium charged; hence the magnesium, iron, copper are attracted to them. And this is how it keeps your water far away from black sediments.
But yes, you have to check the softener system once in a while and replace it if needed. With proper maintenance, you can keep the machine running well, and you won't have to worry about black specks in well water ever again!
More Tips You Might Love To Know
How To Remove Delta Shower Handle
Best Touchless Bathroom Faucet with Temperature Control

Is Black Water Dangerous?
If the water is polluted by rubber residue, it will get a bit dangerous for your health. There are two types of rubber used in making plumbing supplies, the EPDM and Nitrile Rubber.
The EPDM rubber particles aren't safe for you at all as they have proven to be cancerogenic. But our pipes mostly come with Nitrile rubber components. And that's a safer option, to be honest.
However, when Nitrile rubber gets damaged and pollutes your water, there will be some effect on your health. But if you are exposed for a little amount of time, there will be no harm.
So yes, black particles in water from the faucet can be harmful. But following the suggestion given above, you can easily avoid this situation pretty effortlessly.
The Bottom Line
If you hate to see black stuff coming out of faucet, that's not surprising at all! First, you would want to throw up, and then you have to clean the whole tub. Honestly, who has the time for that?
As I have informed you about all the possible reasons, you no longer have to worry about this ordeal. Just figure out the reason behind it and take measures according to that. And then you can have a relaxing bath anytime you want!