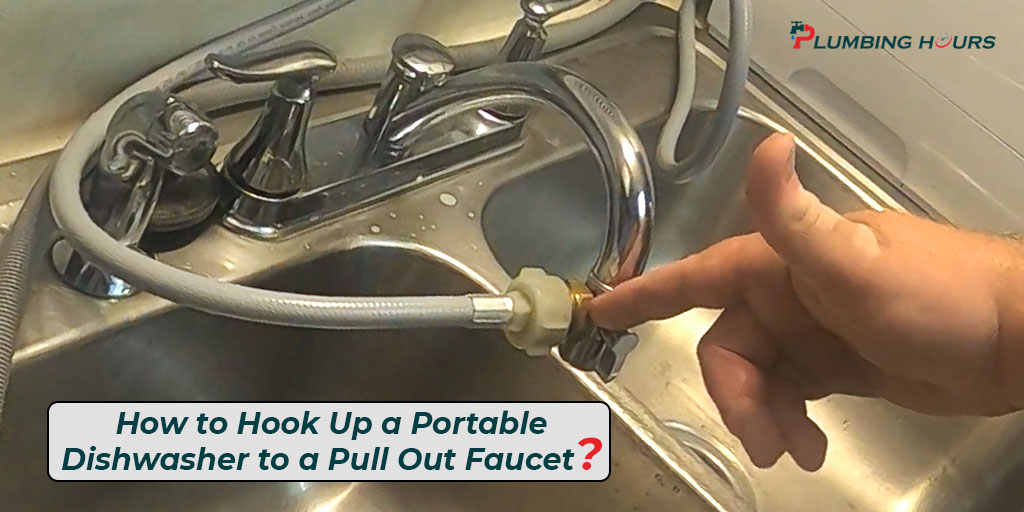 Do you have a dishwasher that you can't stand because it's always taking up space in your kitchen? If so, then you may be interested in learning how to hook up a portable dishwasher to a pull out Faucet. Hooking up a portable dishwasher to your pull-out faucet might seem like rocket science to you. You may think it's so hard that it reminds you of good old Leonardo DiCaprio trying to win the Oscars but he didn't make it.
However, let me get you out of the 'Inception' a bit. It's not that tough that you'll need to hire someone else and do the job for you. I'm always up for saving my money and I hope my easy way of solving things will help you keep your money to yourself.
What is a Pull-Out Faucet and Why Use Portable Dishwasher?
Before you jump into the main event, you might want to know what a pull-out faucet actually is and why should you hookup portable dishwasher with a faucet.
You've probably have seen some sprayers or faucet-heads that people usually pull towards them while cleaning dishes in TV commercials, right? Well, BINGO! That's the pull-out faucet for you. Unlike pull-down faucets, pull-out ones come with longer hoses. As a result, you can swivel the faucet hose with a snap as you clean the dishes.
Pull-out faucets can blend in with small spaces. It's also a great addition to your kitchen if you've got a countertop design.
If you use a portable lightweight dishwasher with a pull-out faucet, you're going to get tons of benefits. There are still a lot of homes that are old and their kitchens don't have built-in dishwasher sinks.
---
So, How to Hook Up a Portable Dishwasher to a Pull Out Faucet
Below I've talked about all the steps on how to hook up a portable dishwasher to a pull out faucet. Follow these made-easy steps and you'll be good to go.
Unscrew the Aerator of the Faucet
First thing's first. You see the aerator? It's basically joined with the kitchen sink's spout. Found it? Cool. Now loosen it carefully. No worries, it's no rocket science. It's so easy that you can just your bare hands to do the job. However, if you find it a bit hard, you can use a pair of pliers.
Now, once you've got the aerator in your hands, keep it a safe place so that you can get it again when needed. I usually forget things easily. So if I were you, I'd keep the aerator inside a plastic bag and label it so that I don't get confused.
More Tips You Might Love To Know
How to Remove a Faucet Aerator Without a Wrench
Best Faucet for Pedestal Sink
Get the Special Pull Out Faucet Adapter for Portable Dishwasher and Screw It In
Since you've purchased your new portable dishwasher, you should get this special pull out faucet adapter with the whole package. If, however, you don't get it, contact your seller right away. I wouldn't compromise such a mistake anyway, but that's a different story though.
Speaking of the special faucet You need this to connect portable dishwasher to pull out faucet and run the water on the dishwasher.
Now, get your hands on the threaded spout of the faucet and screw the adapter over its top. Make sure it fits very securely and that's where everyone makes the mistake. If it doesn't fit well, check the connection on both ends. There shouldn't be any stripping. If you see any stripping, call the manufacturer and ask them if they can replace it.
I'm thinking at this point that you've successfully screwed the adapter on the place it should be; congrats! Now, turn on the hot water of your kitchen faucet and let the water run on the kitchen sink.
No, don't turn off the faucet right away. Rather, wait until the water gets really hot and you can feel the heat when you touch it.
Feels hot? Great! Now, turn the hot water line off.
Best portable dishwasher adapter for pull out faucet
There are a variety of portable dishwasher adapters that can be used with pull out faucets. These adapters make it easy to wash dishes by hand or in the dishwasher. They can be attached directly to the faucet or they can have a hose attachment. Some adapters have sprayers that help clean dishes quickly and thoroughly. So here are some portable dishwasher adapter for pull out faucet which you may like.
Placing the Dishwasher
It's time for you to bring your portable dishwasher. Place it beside the sink and make sure it sits right. Now, here's one thing you need to keep in mind though.
There should be an even spot for your portable dishwasher where you can mount it temporarily.
You should be able to locate the storage compartment now. It's right under the dishwasher. In the compartments, you'll find the water hose. Once you've found it, pull the hose out and roll the dishwasher over the sink.
There's a collar that comes with the dishwasher hose; try to find it. Once found, place it under the special faucet aerator; it should it in the best way.
Now, push the collar down and slide it in such a way that it goes over the faucet aerator. Keep pushing it until you're sure that the hose collar went over the faucet aerator. It's because, if you don't make sure of it, the ring will spring back at you and you might have to start from the zero all over again.
Once, the collar ring that comes with the water hose is secured, you can turn the hot water line on. See if there's any leak as the water runs on the kitchen sink. If you find any wear or tear, consider turning off the water line and secure the connection of the collar ring.
Plug and Run
Once everything is set, you can throw the dishes and throw them in your dishwasher and let it run. You can even choose your own water style.
I prefer running an empty test load first to check if I'm getting the right water flow. Also, it's crucial to see if the water is getting back to the sink and being recycled. Let's not ignore the dishwasher adapter; make sure that all the connections are secure.
---
Portable Dishwasher VS Countertop
Don't mistake countertop dishwashers for portable ones; they're two different things. You connect both of them to your sink faucet for temporary use; true. But you can find their biggest differences when you'll want to use them for washing.
The countertop dishwasher can only deal with few place settings each time. Most units won't even fit, and when it comes to washing pans and pots, this doesn't even come close. On the other hand, portable dishwashers work like built-in dishwashers. It can wash as much as you need.
Let's talk about water usage a bit. Well, countertop dishwashers use up only 2 gallons of water. Portable ones, contrarily use about 3 gallons of water per load, which is around 11 liters. So, you see, countertop dishwashers only save 1 gallon of water, but when it comes to washing dishes in the sink, the portable ones are more powerful. So, I'd obviously give my thumbs up to portable dishwashers.
---
Helpful Tips-Putting Water Filter On Pull Out Faucet
To be very frank, a drinking water filter doesn't go well with a pull-down water faucet. If you're someone who wants cleaner water for drinking, I recommend installing a drinking water faucet separately. You can either go for a RO system or let's say a cartridge filter.
Now, you can ask me if you can turn this portable dishwasher into a built-in one. Well, in such a case, you can do some modifications to the plumbing and dishwasher. That's it. You've just turned it into a built-in dishwasher.
---
Things to Consider Before Buying a Portable Dishwasher
While getting your hands on a portable dishwasher, make sure you check out the settings that are included in it. Usually, portable dishwashers come with almost the same features you get in built-in ones.
Also, don't forget to check out the size. Make sure you can move it easily from one place to another. A standard size will be the ones that come with 18 inches of width, 36 inches of height, and 26 inches deep. You can also go for the ones that are 24 inches wide, 37 inches tall, and 30 inches deep.
---
Wrapping Up!
So that's pretty much it on how to hook up a portable dishwasher to a pull out faucet. It may seem a bit tricky, but once you decide to pull it off, it will seem like a piece of cake for you.
In conclusion, adding a portable dishwasher to your home is a great way to save time and energy. By following the simple steps outlined in this article, you can have your dishwasher up and running in no time. So don't wait any longer, add a dishwasher to your home and start enjoying the convenience and savings today!