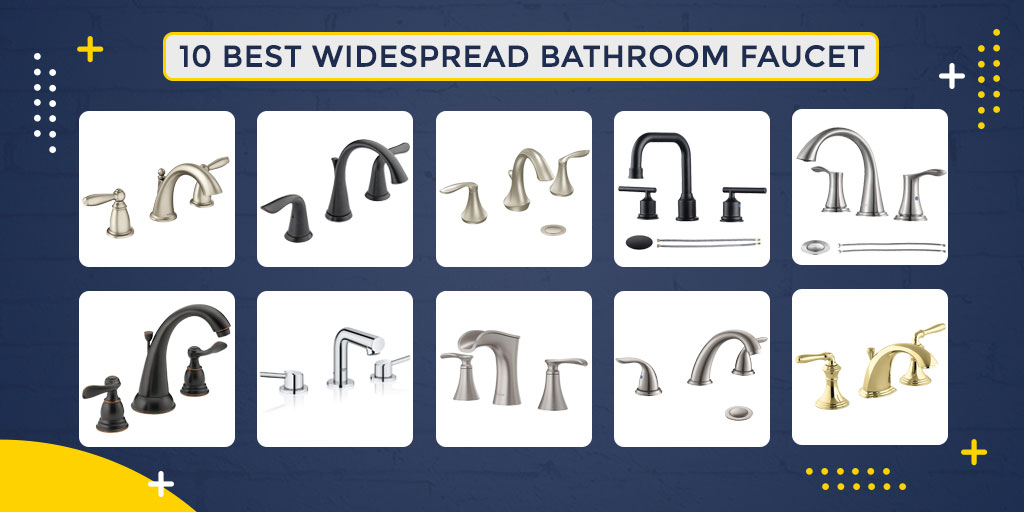 While designing our washroom, we put our essence into the décor, making it special and comforting. And if your heart thinks that you need to install a widespread faucet in your bathroom, just go for it!
But which one is the best widespread bathroom faucet in the market right now? Well, that's what this article is all about!
Here we've showcased ten widespread faucets that come with top-notch build, amazing aesthetics, water-saving feature, ergonomic handle, and they are super easy to install!
Can't wait to see these products? What are we waiting for?
What Do Widespread Means on a Bathroom Faucet?
When your bathroom faucet says that it's "widespread,"(Also Called 3 piece bathroom faucet) you should know that it comes with one spigot and two handles, and the specialty is that all these parts aren't connected.
In widespread, the space between the handles and the spout. The handles control water temperatures separately, so no more burning and freezing hands!
To install this faucet in your lavatory, you will need three holes in the sink. If you don't have these holes, you have to make some to seal the deal!
---
10 Best Widespread Bathroom Faucet Reviews
Well, it is time to tell you about our top picks that we've fished out after weeks of research. Once you pick a product from here, you will never have to look back again; that's guaranteed!
1. Moen 8 inch Widespread Bathroom Faucet Brushed Nickel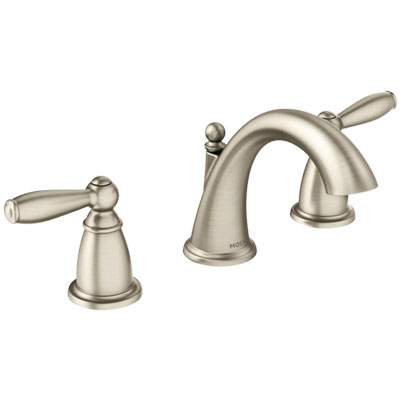 What is the best brand of bathroom faucets, you ask? Moen is one of the most popular names out there, and this product from their Brantford series is one of their greatest creations!
As if the two classic lever handles it comes with were not enough, this faucet is available in 3 colors ranging from Brushed Nickel, Chrome, and Oil-Rubber bronze, which are made to give shades of off-white silver, and black respectively.
These 3 types give the bathroom interior a homely and warm essence of metallic looks. Moreover, it also protects the faucets from staining.
With a spout reach of 5 inches, this faucet can be used in both commercial and residential spaces because of its diversified collection of looks. The flexibility that it can be installed between 8 inches to 16 inches of widespread is icing on the cake!
It saves you from the hassle of replacing any plumbing of the faucet lines because of its built-in Moen M-PACT common valve system that allows you to switch faucet styles easily.
So when you are looking for the best-rated widespread bathroom faucets, consider getting this one for an optimal experience.
Pros
Controlled water pressure saves money.
Comes with a Ceramic disc cart-ridge that prevents leakage.
ADA compliant faucet suitable for disabled people.
Suitable for both personal and workplace washrooms.
Cons
It does not come with a valve.
---
2. Delta 3 Hole Widespread Bathroom Faucet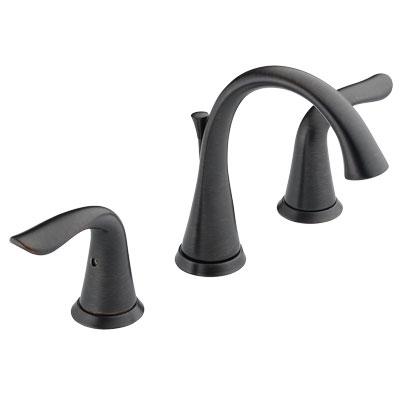 This WaterSense technological innovation is Delta patented and perfect for saving water. Its smooth water flow is commendable, and it is considered one of the top picks of faucets because of its lever shape design. Thanks to these amazing features, it is known as one of the best quality bathroom faucets ever existed
The Delta faucet is visually appealing with its dual handle design, but it is also super durable and flexible to easily adjust cold and hot waterflow. It is a perfect fixture for modern interiors and comes in two colors which are plain black and Brushed Nickel.
This faucet arrives with an assembled drain system and requires 3 holes to be installed into the sink. On top of that, the super-tight durability ensures that you do not need to replace the taps for prolonged months. Thus, it is one of the best delta bathroom faucets; there's no doubt about that.
With a spout reach of 5 inches and rotatable handles to 90 degrees, it fits perfectly in your hands.
Delta faucet is environment-friendly and would save your water bills by a good amount since it uses WaterSense technology and is known to use around 20% lesser water than most other faucets.
The installation also comes super easy as the gap can be set between 6 to 16 inches. So when you are looking for the highest quality bathroom faucets for your lavatory, this one will be an excellent choice undoubtedly!
Pros
WaterSense technology saves water.
The package includes a pop-up drain for easy assembly.
Goes with any countertop.
Has ergonomic handles for convenience.
Cons
You have to purchase supply lines separately.
---
3. Phiestina 2 Handle Widespread Bathroom Faucet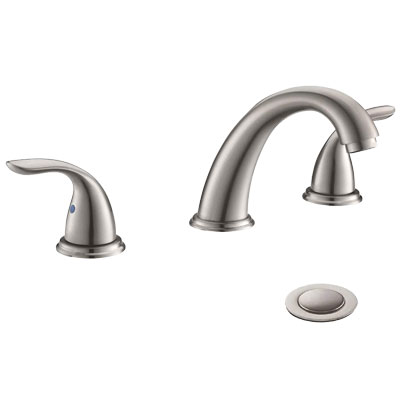 With a tap suitable for most bathroom interiors, both traditional and modern, Phiestina has only boosted its image with this widespread faucet. Let's look at why this product made its way to our list.
This shiny faucet comes in 3 colors ranging from Brushed Nickel, Chrome, and Oil-Rubber bronze, which will suit any bathroom interior nicely. Moreover, red and blue marks indicate water temperature and offer ease of use. Moreover, it has a built-in copper body that prevents leakages wonderfully.
Phiestina has made itself one of the best quality faucet providers in the market by providing many unique features. Firstly, the one-time push drain assembly that seals and drains water and other remnants easily; secondly, it comes with a built-in anti-clogging basket.
Thus, worrying about hair or other debris getting stuck will never be your headache!
In addition, your family will always be safe and healthy because Phineas specifically uses lead-free material to manufacture the body of faucets. It has a Y-shaped nylon braid hose that will help you save money by hiring a handyperson since it's super easy to install by yourself!
Pros
Metal push and pop-up drain come with the package for easy installation.
Lead-free material ensures safety.
Easy to install and saves plumber fees.
The water-saving feature reduces bills.
Cons
The seal around the base can use some improvements.
---
4. WOWOW 8 inch Widespread Bathroom Faucet Black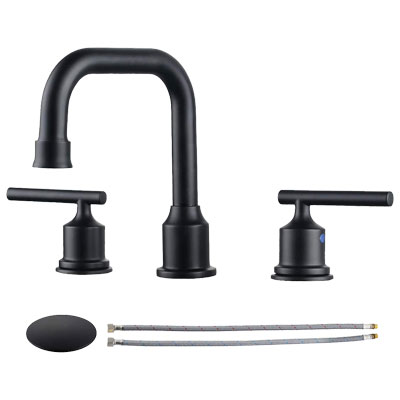 When it comes to brands, Wowow is relatively unknown, but they have made some top-rated bathroom faucets. Their relatively low-price tag, along with their subtle and elegant finish, will suit a wide array of bathroom interior décor.
Wowow bathroom faucets are deck mounted and have the traditional 3-hole design. With a spout height of 3.6 inches and a spout reach of 5.1 inches, these faucets fall in line with the other faucets available.
Moreover, This long neck bathroom faucet has an adjustable spread ranging from 4 inches to 16 inches. Hence, you can adjust the faucet just the way you want.
These faucets come in 6 colors: Black, white, Brushed Nickel, Oil, Rubbed Bronze, Chrome, and Brushed Nickel. All the faucets are made of Brass making them durable.
There are 2 handles for controlling the water temperature. Hence, this product is on the top when it's about convenience!
The faucet comes with unique construction methods by quickly installing the pipes without a wrench. And you're getting all these features within an affordable price range. Isn't that amazing?
Pros
Quick and easy installation process
Made with high-quality Brass for enhanced durability
Has two handles for controlling the different temperature
It can be adjusted according to your preference
It comes with a long reach bathroom faucet
Cons
The instruction manual isn't user friendly
---
5. PARLOS Widespread 2 Handles Bathroom Faucet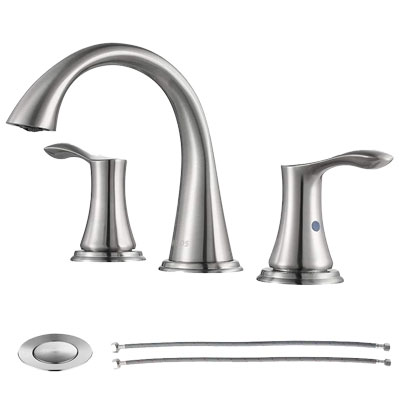 If an elegant and timeless look is what you are searching for, Parlos got the faucets you need, and it is the best faucet for bathroom within a low budget. Well, let's see what this product offers benefits.
This faucet comes in 3 colors, Brushed Gold, Matte Black, and Oil Rubbed Bronze. The Oil-rubbed bronze finish provides a proper vintage and antique look that will suit most interior décor.
It is deck mounted with a traditional 3-hole design and a customized spread from 6 to 12 inches. Moreover, this fixture is equipped with 2 handles, making it easier to adjust the temperature and water flow.
As the faucet comes with a maximum flow rate of 1.5 gallons per minute, you are getting a highly efficient product here. All the parts needed for installation are included in the packaging for ease of installation. And these qualities make it one of the most reliable bathroom faucets you can get.
The faucets are made of bronze-like most other faucets in the market as it is durable, but you will struggle to find one with a similar price tag as the Parlos Widespread faucet. It is also built to be ADA compliant, making it safe for disabled people to use.
Considering all its features, you can choose to buy it when you want all the high-end benefits within a pocket-friendly budget. It's the best of both worlds, don't you think?
Pros
Comes with all the components for ease of installation
Safe for disabled people to use
Made with two handles of convenient temperature controlling
Offers excellent waterflow
It comes with a long reach bathroom faucet
Cons
Tends to rust if not taken care of properly
---
6. Kohler Widespread Bathroom Faucet with Drain Assembly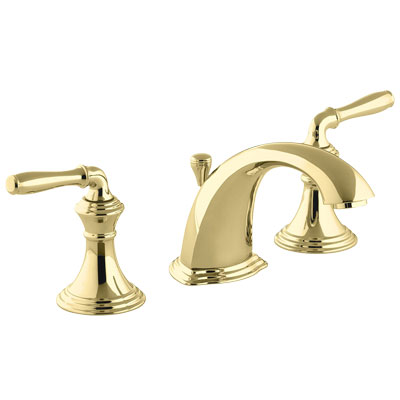 KOHLER is on the list of the best brand of bathroom faucets, known for their quality and traditional yet timeless design. This fixture can win anyone's heart with its elegant look and amazing features.
Remember the old days when installing faucets seemed like a daunting and challenging task? Well, you can say goodbye to the hassle as this bathroom faucet is shipped pre-assembled, so now it's that much easier to install them in your bathroom!
The faucet is a deck mount system and comes with a metal drain and supply lines taking all the guessing and grunt work out of the process. So when you are not good at mechanical tasks or want to avoid the hassle, this fixture will be the ideal choice.
It uses Brass to construct the faucet's body and easily lasts for years. The widespread faucets also come in different colors; thus, getting the perfect one for your bathroom décor will be an easy task.
Kohler's own patented ultra-glide valves are made out of ceramic which surpassed the industry standards of durability, so you know you are getting your money's worth. Better prepare yourselves for zero drips and spills for a long time.
Pros
Arrives pre-installed to offer convenience
Made with high-quality Brass for durability
Has innovative ultra-guide ceramic valves to ensure ease of use
The traditional and timeless design makes your décor elegant
Cons
Not suitable for modern décor
---
7. Moen High Arc Widespread Bathroom Faucet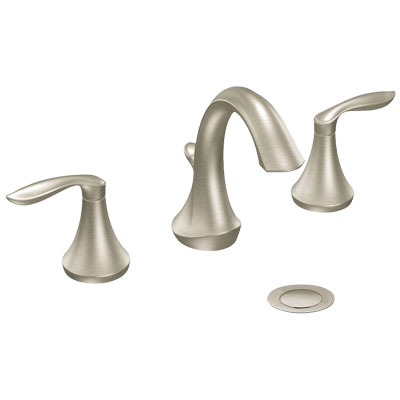 When it is about the best brand of bathroom faucets, many people will suggest Moen faucets in this case. And this product is praised in all Moen bathroom faucet reviews, so we have researched it to see if it is worth the hype.
These high-arc faucet handles offer customization when it comes to its installation. It can be installed between 8 inches to 16 inches. Hence, you can arrange your lavatory according to your preference.
Did we mention the faucet comes with 2 handle levers for easier adjustment of water flow? Moen offers its faucets in 3 different colors for a variety of bathroom décor and ambiance.
The Oil-Rubbed Bronze finish provides an antique look, while the traditional Brushed Nickel and Chrome finish can work with most decoration styles. Hence, check this one if you are into brushed nickel widespread bathroom faucets.
Moen widespread faucets are also WaterSense certified, meaning performance is not sacrificed to conserve water. The faucets still provide a maximum flow rate of 1.5 gallons per minute. The faucets also comply with ADA, adding a feather on the crown.
However, it is important to remember that the trim kit doesn't come with a valve, so it must complete the installation.
The faucets are built on the Moen M-PACT common valve system, facilitating future updates to the faucet style without replacing any plumbing. This will be making changing the faucet a cakewalk for when you want a change in style.
Pros
ADA compliant making it safe to use for disabled people
Moen M-PACT common valve makes it trivial to update the faucet
Offers you the ease of customization
Comes with two handles for controlling the waterflow
Cons
Doesn't come with a valve
---
8. Pfister Waterfall Widespread Bathroom Sink Faucet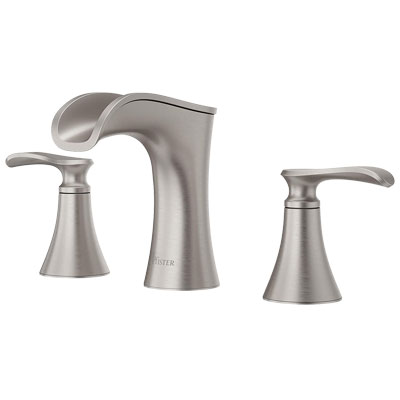 For those of you who want something unusual, eye-catching fancy bathroom faucets for their lavatory, the Pfister Waterfall faucet is the one for you. Not shying away from a unique design, this rather inexpensive faucet might just be what you are looking for!
The Pfister Waterfall faucet is deck mounted, which can be installed with an 8-inch spread up to 20 inches and the faucet also comes with 3 holes. Moreover, it includes 2 handles for easier adjustment of the desired waterflow.
This fixture is also made with a ceramic disc valve that increases longevity and reliability. The valve and cartridges are also included to make things effortless.
Well, you will also enjoy an easy installation process as the Tite Seal removes the need for putty or silicone. Installing the drainpipes is also made easier with no additional tools required!
The faucet comes in 3 colors, Tuscan Bronze, Polished Chrome, and Spot Defense Brushed Nickel. Thus, you can consider this one when searching for chrome widespread bathroom faucets. And it has an extra layer of "Spot Defense" protection. So say goodbye to those pesky water stains.
Pros
Meets ADA requirement for disabled people
Comes with water-saving features to reduce bills
The package includes everything for an easy installation
Made with a protective layer to prevent damages
Cons
The build quality can use some improvements
---
9. Delta Widespread Bathroom Faucet Oil Rubbed Bronze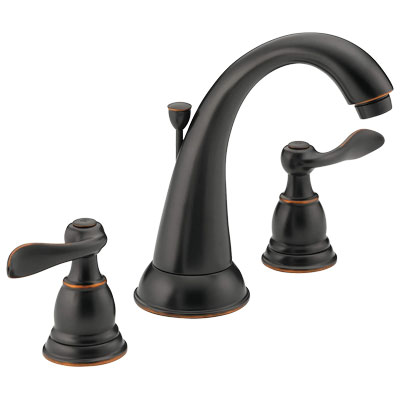 With a brand like Delta, you can expect unequaled quality in their range of bathroom faucets. We will talk about an excellent example of the craftsmanship found in Delta's range of bathroom faucets.
The Delta Windemere Two Handle Widespread Faucet with the 3-hole design and with a customized installation spread from 6 inches to 16 inches. Moreover, it is primarily made of brass and comes in 3 colors, but the Oil Rubbed Finish gives a certain warm look that will fit quite elegantly with most bathroom décor.
The installation process will be easy-peasy as the package arrives with a pop-up drain assembly!
The faucet is ADA compliant, making it safe for disabled people and WaterSense certified, reducing consumption without impacting performance.
Pros
Meets ADA standard for disabled people
WaterSense certified as at least 20% more efficient than the industry standard
Pop-up drain assembly included with the faucet for easier installation
Comes with an oil-rubbed finish to make your décor stunning
Cons
Supply lines are not included in the package.
---
10. Grohe Chrome Widespread Bathroom Faucet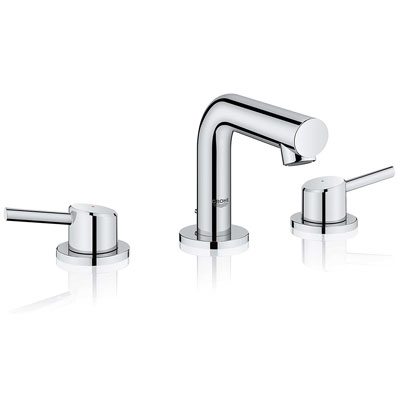 For those who want a sleek, stylish, and modern bathroom faucet to match their equally modern bathroom interior without being too heavy on the wallet, go for the Grohe Concetto widespread bathroom faucet without any doubt!
The Grohe Concetto is desk mounted with an 8-inch spread. This fixture's core material is made of Brass like most faucets in the market, but the handles are stainless steel for better durability. Therefore, this product is on the top in all the Grohe bathroom faucets reviews.
You can rotate the handles of this faucet up to 90 degrees. Hence, you can mount it in a compact space. Moreover, the faucet comes with 2 handles making it easier to adjust the flow and temperature of the water.
This product is available in various sizes ranging from X Small to Large. It also comes in 2 colors, chrome and Brushed Nickel. These colors come with a Grohe Starlight finish which forms a protective layer against scratch or tarnish for a greater period.
On top of everything, these high-quality bathroom fixtures are equipped with Eco joy technology which significantly reduces water consumption which maintains the perfect waterflow.
And it is also quite easy to install the faucet thanks to the Grohe Quick Fix installation system, which dramatically reduces the cost and time for installation.
Pros
WaterSense certified and GROHE Eco Joy technology for perfect waterflow
Comes with a protective finish to prevent damages
Suitable for mounting in a tight space
GROHE Quick Fix installation system reduces the time for installation by about 50%
Cons
Screws and nuts made of plastic
---
Bonus Info For You
Best Affordable Bathroom Faucets
Best Touchless Bathroom Faucet with Temperature Control
Best Wall Mount Bathroom Faucet
---
Best Widespread Bathroom Faucet– Buying Guide
No matter how many reviews you read or how much you surf the web, you will only end more confused when finally getting a widespread bathroom faucet. So let's go through the buying guide together to learn what you must consider when purchasing a widespread faucet.
Design, Outlook, and Style
First and foremost, you must decide what type of look you want your bathroom interior to have as it plays a big role in the visuals. It can be traditional, modern, vintage, transitional, waterfall, or maybe a mix of many.
For more into the modern era and simplicity, chrome and brushed Nickel shines is considered the most popular bathroom faucets! This is due to its intricate and sleek design layouts.
A waterfall design is a well fit for people who are more into the artsy era and wants something to add to their bathroom's aesthetics; this design makes the waterfall like a waterfall, adding more beauty.
While the designs mentioned above are set for different groups with people having a specific interest area, some people love to have the best of both worlds, and this is where transitional designs come to the rescue as it has both vintage and modern touches.
Finishes of Faucets
Faucet finishes are another important factor to consider when buying them because many options are available. Most faucets come with 2 to 3 color options, but Phiestina stands out with around 6 finishes!
Let the bathroom decide on its own as it's the most suitable finish after you set up other accessories. Chrome is known to be the most commonly used finish.
Finishes always come with the power of resisting spots, and the shiny polished surfaces are easy to clean. All it takes is some soap, water, and wet cotton cloth, and a single wipe will make them look as good as new for a longer time.
Ease of Installation
You must remember that widespread faucets are always supposed to be installed in a sink with 3 holes. And if your sink does not have that, just grab an instruction book and drill in two more holes! It's easy if you follow the manuals properly.
Currently, most taps come with quick connection and easy installation features where it only takes one push or tap to get all the adjustments connected. Please make sure you cross-check and tighten all connections to avoid any future leakage.
Also, always buy faucets and taps according to your sink's size and gap distances.
Material type
The longevity of your faucet will definitely depend on what type of material you get; it can be stainless steel, brass, or zinc.
Each material has its unique highs and lows; while stainless steel is super smooth and rust-free, Brass is expensive yet durable and guarantees longevity with cleaner water.
On the other hand, zinc is not very famous because it has brass plating and does not always prevent corrosion. But it is still used by people who want to keep the budget lower.
Handle design
Even though handle designs are not that famous now since people switch to touchless faucets where water comes out by sensing hand movements, there are still some options.
There are lever shape handles that are long and easy to be used by all age groups with a good hand grip; there are also cross-handle designs that can sometimes be difficult for children to get a hold of.
High and Low Arcs
It is highly recommended that you buy arcs that are proportional to your sink size; for example, a small and lower arc will perfectly suit a smaller sink while a higher arc will only create splashes; thus, decide and buy wisely!
Price of Best Widespread Bathroom Faucet
This is subjective and personal as well. You must plan your budget and filter through faucet results that suit both your price range and your convenience. Balance your wish and budget to a 50-50 and decide!
---
Frequently Asked Questions
About Best Widespread Bathroom Faucet
How wide is a widespread bathroom faucet?
Sixteen inches is the highest size a widespread bathroom faucet can go.
What is the dissimilarity between widespread and mini widespread faucets?
While widespread faucet spouts and handles are separated by 8 inches, mini ones have gaps of 4 inches.
Is it possible to swap a center set faucet with a widespread one?
Yes, but you will need to drill and make the holes bigger to fit in a widespread faucet in the same area; a better option would be to install a widespread mini faucet instead.
How do you assess a widespread faucet?
By holding a measuring tape above the faucet or separately measuring distances between the handles.
What is a 4-inch widespread faucet?
These 4-inch faucets are called center sets and are mainly used in wash basins with 3 holes.
---
Final Thoughts
The task becomes daunting when you plan to buy the best widespread bathroom faucet. However, you won't have any future problems as we have told you about all the top products.
But if you are still confused, let us give you a heads-up.
For an overall experience, you can go with the Moen 8-inch widespread bathroom faucet. It comes with all the high-end features, looks great by its is not crazy expensive! And that's everything you need.
Furthermore, Delta 3-hole widespread bathroom faucet is another great choice. Well, all the products we listed offer you outstanding service for a long time. So no matter what you choose from here, you will get an optimal experience.