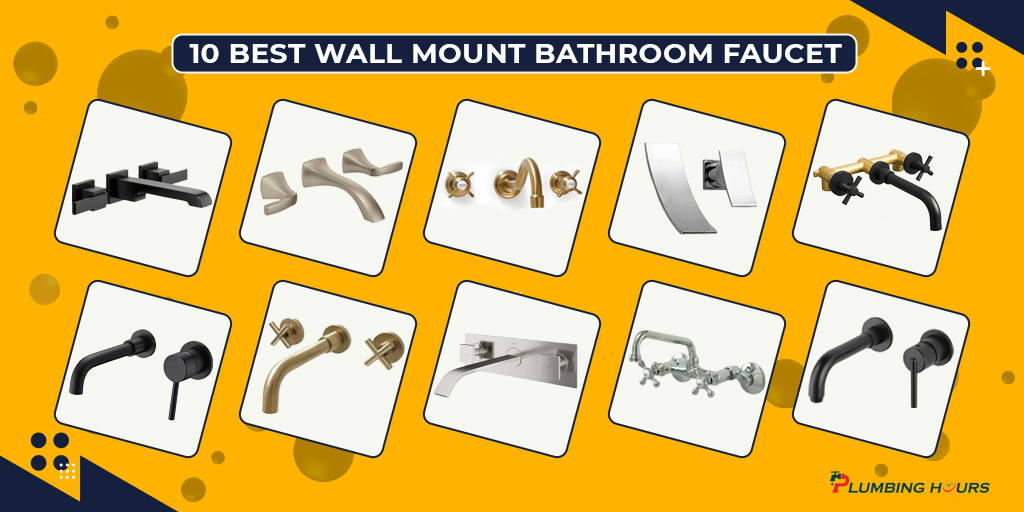 Wall mount faucets are the greatest choice when you plan to give an exclusive makeover to your bathroom. But there are tons of manufacturers and thousands of fixtures. So which one will be the best wall mount bathroom faucet?
Don't worry; we're here to save you from the ordeal! In this article, we've showcased the top ten products that are the crème de la crème of the faucet industry. These fixtures have the amazing build quality, ergonomic handles, water-saving features, protective finish, and aesthetically pleasing outlook
Well, you may think that these faucets are too good to be true, but they actually are!
We know you are eager to learn about them. So what are we waiting for?
How We Pick The Best Wall Mounted Bathroom Faucets for This Review?
As you've put your trust in us with your choice for a good faucet, you have the right to know how we chose the best faucets for this list. Below is a list of criteria that we've considered for this list.
Customer review: A person who has used the product knows the product best. So, we've chosen faucets that achieved excellent reviews from responsible customers.
Quality: A cheap product is nothing but a waste of money. To make sure that your hard-earned money is spent well, we chose the best quality faucets available on the market.
Brand Value: A better brand usually means better quality. For this list, we've chosen the brands ruling the market for years and are famous for their excellent customer service.
Price: Quality comes with a price. However, all the good quality products aren't necessarily expensive. We picked the best faucets that are affordable and worth every penny.
Ease of use: As a water faucet is used regularly, you must be comfortable while using it. All the faucets on our list come with smooth operating and handling options.
---
10 Best Wall Mount Bathroom Faucet Reviews
Here is our list of the top ten products guaranteed to ensure the best experience for you. So without wasting much time, let's get to know these faucets right away!
Our first entry is the Black Matte Wall Mount Bathroom Faucet from Delta. With its geometric angles, sharp edges, and bold matte black finish, this effortless statement piece will surely turn some heads. Whether your space has a traditional or transitional style, it doesn't matter; the faucet will blend in perfectly.
Beyond looks, the enhanced durability of this black wall-mounted faucet is equally attractive. The heavy-duty brass construction is built to serve you for a lifetime. Plus, the brass clearly won't rust or corrode. The installation process will be a breeze for you with a standard 3-hole 8″ configuration and provided trim kit.
As for technology, Delta black wall-mount faucets have a good reputation for integrating the most innovative technologies. The Spot Resist technology will make sure any marks, fingerprints, and dirt are completely resisted. Additionally, its Water-Efficient technology saves water up to 20% without discounting the faucet's performance.
Thanks to its brass-made handles, you can easily control water flow and switch the temperature between hot and cold. Considering all these amazing features, you can be assured that the faucet will be a bang for your bucks.
Pros
The smooth black matte finish complements both traditional and contemporary styles.
The heavy-duty brass construction provides durability and resistance to corrosion.
Spot Resist technology prevents dirt marks and fingerprints.
Features sturdy and ergonomic handles for temperature control.
Cons
A Rough-in kit isn't included with the package.
---
Want an amazingly constructed wall mount faucet that is specialized for your bathroom and kitchen sinks? This time we've picked for you a faucet that is laden with remarkable features and won't cost you an arm and a leg. Meet the KS213C Victorian Wall Mount Faucet by Kingston Brass.
As the name suggests, the faucet is made of brass which is more suitable to handle intensive abuses of your kitchen. Apart from the kitchen, this 7-inch 180-degree swivel faucet will effortlessly suit your laundry and bathroom sinks as well. With this faucet, you can enjoy maximum functionality and versatility while working.
Talking of versatility, did I mention that Kingston Brass faucets offer you ten different finishes? Yeah, that's right. You can choose between ten different types of finishes, including polished chrome, matt black, antique copper, and many more. This two-handled faucet also features 2 ceramic disc valves that prevent dripping.
Other features include a 2-hole installation configuration, an integrated removable aerator to conserve water flow, and two cross handles that act as a 1/4-turn on/off control mechanism. However, the best part is its affordable price, which makes this faucet a great buy across the board.
Pros
Features a 180-degree swivel spout for enhanced functionality.
Offers 10 different types of finishes to suit diverse tastes.
Features two ceramic discs that prevent dripping of water.
The price is very affordable.
---
Next up, we have the Gold Wall Mount Bathroom Faucet by SITGES. Where common designs don't fit, this faucet with a spout reach of 7 inches will perfectly fit into tight spaces. The glamorous gold finish will give a feel of natural royalty to your bathroom and kitchen. Also, it will keep the dust well-hidden and effectively prevent rust.
For years of dependability behind the wall, the faucet is made of solid brass that survived the Acid Salt Spray and Water Tightness tests. The construction includes an aerator for a well-aerated splash-free water stream. Also, the removable nozzles make the cleaning process easier for you.
With the amazing ceramic cartridges of this faucet, you can say goodbye to leakage forever. These have been tested 600,000 times to ensure leak-free performance and a longer lifespan. The faucet also casts cold & hot mixer valves, and standard cross handles to control the temperature precisely.
To ensure a hassle-free experience for you, the faucet ships with all the necessary accessories, and the installation process has been made easy for everyone. Moreover, Kingston Brass offers you excellent customer service and hassle-free exchange and refund policy if you're not 100% satisfied. Isn't it simply amazing?
Pros
The space-efficient faucet features a gold finish and perfectly fits into small bathroom sinks.
The Solid brass construction withstands acidity and soft water corrosion.
Ceramic cartridges effectively control leakage and dripping.
Removable nozzle for better cleaning and easy replacement.
Cons
The water flow isn't up to the mark.
---
Impressed by the amazing quality Delta faucets? Well, here's another best-seller Delta faucet for you, the Trinsic Wall Mount Faucet by Delta. While the other one was two-handled, this one has only a single on/off the handle, which eventually makes it simpler, space-saving, and easier to install.
Once again, the faucet is made of brass and coated with a beautiful matte black finish that makes an impression without trying too hard. The bright black tone successfully keeps the fingerprints concealed. Also, the faucet comes with a trim kit to facilitate the installation process.
Uniquely enough, this black wall mount bathroom faucet requires a 2-hole installation configuration. Most wall-mounted faucets require an 8″ wide installation, but this one is more versatile as it supports configurations between 4-8″ width range. So, you don't have to go through any extra trouble to fit the faucet on your sink.
The best part? It's completely safe. This Delta faucet is a lead-free one. So, be confident that no harmful component will pollute your drinking water, and the safety of you and your family is assured. These impressive features undoubtedly make this faucet the best black wall mount sink faucet out there.
Pros
Features a single on/off valve for easier control.
Brass-made with a matte black finish that suits both classic and rustic styles.
Compatible with 2-hole and 4-8″ installation configurations.
The faucet is lead-free, and so provides completely safe water.
Cons
The handle takes a few moments to stop the water completely.
---
As you went through our previous reviews, have you been wondering if you could get all the brilliant traits in one simple water faucet? Well, we've found an all-rounder for you. The VIGO VGO5002BN Brushed Nickel Wall Mount Faucet is designed to fit 2-hole and 8″ configurations.
Without a doubt, the standout feature of this faucet is its building material. This solid brass-made faucet has a truly remarkable 7-layer plated finish that fights
corrosion and tarnishes expertly and maintains a steady look for years. From brushed nickel, chrome, and matte black, you can choose the one that suits the mood of your place.
As for the technology, VIGO has integrated their DripStopTM leak-free technology at the spout's back. After you've set the faucet handle in an 'off' position, no dripping and leakage will occur because of this tech. The faucet also features Fingerprint Resistant technology that ensures your faucet is clean after use.
To facilitate the cleaning process for you, this VIGO faucet features a mineral-resistant nozzle. The faucet also features two unique square-shaped handles with markings for easy identification of hot and cold options. Plus, the handles have an integrated locking system to safeguard their correct positions.
Impressed already? Hold on; we've more. The best part of this faucet has to be the complete package that includes everything you'll need to install, including the matching pop-up drain, ceramic disc valve, and supply lines. If you want a go-to faucet for everyday use, this is the ideal one for you.
Pros
Brass construction with a 7-layer finish resists corrosion and wears off.
Features a mineral-resistant nozzle to facilitate regular cleaning.
Square-shaped handles with locking system and markings for temperature identification.
The package includes every necessary piece of equipment for installation.
---
Love to make a statement with your unique picks? Allow me to introduce you to this lineup's most unique-looking faucet. The Matte Waterfall Faucet by SUMERAIN has a uniquely curved spout to create a beautiful waterfall effect that can single-handedly bring a modern look to your bathroom.
A single curved handle complements the sleek spout design and can make anyone go 'WOW'! You can smoothly control the water temperature and volume by twisting a single lever. The waterfall faucet also features a ceramic cartridge to prevent dripping. A beauty with quality, isn't it mind-blowing?
When it comes to construction design, SUMERAIN doesn't fail to impress. The faucet is made of solid brass and coated with high shine chrome that instantly lights up the room. It goes with both traditional and transitional styles. Plus, the high-quality brass will make sure your faucet is free from rust and tarnish.
As for accessories, the package includes a rough-in valve made of brass. So, the valve is durable and easy to clean. The faucet also provides a very powerful flow rate of 1.8 GPM which eventually makes dishwashing easier for you. Altogether, the SUMERAIN faucet will undoubtedly outperform your expectations.
Pros
A very unique curved designed faucet that radiates modern vibes.
A single lever can control the hot and cold streams.
The solid brass body with its shiny chrome finish is very durable.
A rough-in valve is provided for easy cleaning.
Cons
The installation process is slightly complex.
---
Yet another SITGES faucet made our list. This time we picked the Antique Wall Mounted Bathroom Faucet by SITGES designed to fit a 2-hole and 8″ configuration. The spout has a very impressive reach of 9.2 inches, making this faucet perfect for larger sinks and bathtubs.
As the name suggests, the faucet adds more antique vibes to your place. It has a handsome old-fashioned arch that gives an exceptional luxurious touch to your bathroom. Since the faucet is wall-mounted, your countertop will have more open space to make the cleanup easier for you.
You can count on the faucet for long-lasting performance, thanks to its premium brass construction. The polished inner surface avoids tarnishing and corrosion. As for the outer surface, the brushed gold finish protects the faucet against rust and scratching. So, the faucet is highly suitable for everyday use.
Need more convincing? The faucet comes with all the essential accessories for installation, including leak-proof ceramic cartridges and a rough-in valve that controls the water temperature with the two cross handles. If you want a durable, high-quality faucet at an affordable price, here's the one you should opt for.
Pros
Suitable for larger sinks and tubs with a 9.2-inch spout reach.
The antique design adds an extravagant touch that suits modern and traditional spaces.
The solid brass construction with a gold finish prevents scratching and tarnishing.
The package includes leak-proof ceramic cartridges and a rough-in valve for temperature control.
Cons
Extended ceramic cartridges are sold separately.
---
Related Info For You
Best Inexpensive Bathroom Faucets
Bathroom Faucet with Temperature Control
---
When we talk about the best wall-mounted faucets, Moen is one brand that can't be left out. The brand has been ruling the marketplace with its high-performance faucets. So, this time we picked the T6906BN Wall Mount Bathroom Faucet by Moen. Let's have a look at its best features.
The two-handled faucet will mount on a 3-hole configuration and has a metal body with a shiny brushed nickel finish for enhanced durability. The unique Spot Resist technology resists hard water spots, fingerprints, and dirt. So, the cleaning process is a breeze for you, and regular dry cloth wiping will be enough.
What sets Moen apart from any other brand is its innovative technology. The faucet has a water-saving technology that saves 20% more water than the industrial standards, eventually keeping your water bills low. The Power Clean tech helps to release water with 50% extra force that helps you to clean dishes faster.
Say goodbye to replacement troubles with the M•PACT valve system, as you can alter faucet styles without any replacing and plumbing expenses. More impressively, this faucet will coordinate with other Moen accessories allowing you to cut your costs further. From quality to durability, this faucet is a winner in every way.
Pros
Durable with a brass body and brushed nickel finish.
The Spot Resist technology prevents dirt, spots, and fingerprint.
Water-saving technology conserves water to keep water bills low.
Coordinates with faucets and accessories of the same brand.
Cons
Required valve isn't provided.
---
If you want a flexible faucet that will suit your bathroom, kitchen, and bathtub as well, we've good news for you. The Wall Mounted Bathroom Sink Faucet by Hoimpro is probably the most versatile faucet of this lineup. While the typical faucets have a 1-mode spout setting, this one has a 2-mode spout setting: Stream and Spray.
The stream function is to fill water quickly, while the spray function is for rinsing. This way, you get better control over the water pressure. The spout is also very versatile with an 8.18″ reach and 360-degree rotation feature. You can fit the faucet in a 3-hole 8″ installation configuration.
As for material, the faucet has a brass construction, matte black finish for the spout, and copper construction for its two freely adjustable cross handles. Both the metals are highly durable and free of lead. Meaning, every drop of water that comes out of the wall faucet is completely safe for you and your family.
We love this Hoimpro faucet because it doesn't require any extra cost for accessories. The package includes the faucet, all the mounting accessories, and the installation hardware. How cool is that? Judging by all its excellent features, we can assure you that its performance bowl you over.
Pros
A two-function spout provides two different types of water flow for more diverse uses.
The 8.18-inch 360-degree swivel faucet is more suitable for larger sinks and bathtubs.
Brass and copper construction ensures durability and safety.
The package includes all necessary hardware for installation and mounting.
Cons
The customer service can use some improvements.
---
For our last pick, we have another SUMERAIN faucet for you. The Single-Handle Water Mount Faucet by SUMERAIN is a simple yet classy choice for vessel sinks. With the 1/2″ standard plumbing connections and provided rough-in valve, the installation will take less time, and you can save the man-hour cost of plumbing.
Let's talk about the features now. The faucet features an easy operating single lever handle that controls the water volume and hot and cold streams. The ceramic disk cartridge has been tested to be leakage-proof after 600,000 uses to ensure maintenance-free use! So, you can confidently wave off the sky-high water bills.
If your place has low water pressure, this water faucet can be a lifesaver for you. The faucet has a flow rate of 1.8 gallons per minute, making sure you receive powerful concentrated spray every time you open the tap. Plus, the faucet also effectively prevents splashing.
Thanks to the premium brass construction, the faucet will remain durable and elegant over time. And what can I say about the beautiful matte finish? It fights peeling and corrosion throughout its lifetime while being aesthetically stunning. If you want a faucet that looks 'like new' for years, this is THE one.
Pros
Easy to install with standard plumbing connections.
A black matte finish on a brass construction confirms a longer lifespan.
Features ceramic disk cartridge that prevents leakage and dripping.
Features one single lever handle to control the water temperature and flow.
Cons
Not suitable for larger sinks.
---
What Should You Look For when Buying A Wall Mount Bathroom Faucet- Buyer's Guide
Now that we've discussed our top-picked products, it is time to talk about how you can choose the most suitable faucet for yourself. So here are the factors to consider in a wall-mount faucet to enjoy an optimal experience.
Material
Any faucet's overall quality and durability largely depend on the construction material. In contrast, the material can also affect the price of the faucet. You have to choose a perfect material that is affordable and long-lasting. We would recommend you to go for a Brass or Copper made faucet.
These two are the most popular material for water faucets, and it's easy to see why. Both are solid, sturdy, and generally have a long lifespan. Most importantly, they are free of any toxic component like lead. They are also very cheap, making these two perfect water faucets.
Finish
When buying a new faucet, the faucet's finish is one of the most important factors to consider. Besides providing the outer look, the finish also safeguards the faucet from scratching, tarnishing, and peeling. So, you've to choose a finish wisely that complements the overall mood of your space.
Here's an overview of the three best finishes suitable for both modern and traditional styles.
Matte Black: This finish is classy, gorgeous, and achingly cool. Plus, it effectively hides dirt, spots, and fingerprints.
Polished Nickel: The polished nickel finish is shiny, smooth, and gives different looks in different lighting. This finish gives the faucet a fresh look, and it's easier to clean.
Gold: A finish that gives your bathroom a feel of royalty. The gold finish is long-lasting and a bit expensive.
Brand
We all know that choosing a good brand is very important. A well-known brand is usually reliable for better quality faucets and better customer service. They will provide you with accurate information about their product quality. You can also go through the customer reviews for assurance.
Delta, Moen, SITGES are some brands famous for their quality faucet. You can count on any of them. We'll also recommend SUMERAIN for overall satisfactory performance.
Warranty
The warranty can be a real lifesaver if anything goes wrong during shipment. A lifetime warranty is always preferable. If you need any upgrade after a few years, a lifetime warranty can save you from some extra cost. So, ask the seller for a warranty before making a purchase.
Price
Well, we all want better quality at an affordable price. After all, a simple faucet shouldn't cost an arm and a leg. Luckily, most of the quality faucets are cost-effective. So, go for a pocket-friendly faucet from a well-known brand that meets all your preferences.
---
Frequently Asked Questions
About Best Wall Mount Bathroom Faucet
Are wall-mounted faucets better?
Among the bathroom faucet mounts, wall-mounted faucets are better in many ways. Most importantly, they have a unique luxurious look that can attract anyone and go with both modern and traditional styles. The faucets are easier to clean and save the valuable space of your countertop. Overall, faucets that come out of the wall are ideal for a minimalistic vision and smaller spaces.
Are wall mounted faucets more expensive to install?
Yes, the wall mounted faucets are more expensive to install. Installing wall-mount faucet is a more complicated task, and so it will cost you 30% more than the deck-mounted faucets.
Where should wall mount faucets be placed?
You can place the water faucet on the wall above the sink of your kitchen and bathroom. A minimum distance of 3″ is recommended between the spout outlets and sink rim. The faucet is placed between 2 wall studs. Read the provided manual to find out how to install a wall mounted faucet.
How high should a wall mount faucet be above the sink?
The height of the faucet will depend on the shape of your sink and tap. Know the dimensions of your sink and place the faucet at a comfortable height so that you have enough space to accomplish daily tasks. Usually, a 7-inch height will suit any vessel sink.
How much does it cost to install a wall mount faucet?
The wall mounted faucet installation cost varies depending on the setting of the sink and the current situation of your water supply pipes. The estimated cost will be around $200 to $600.
Do wall mounted faucets have shut-off valves?
Typically, the out of the wall bathroom faucets will not have shut off valves except for some models. However, you can add a shut-off valve anywhere behind the wall along the supply pipes during installation.
---
Final Thoughts
That was our list of the most efficient bathroom faucets that come out of the wall. You can pick any faucet from this lineup that matches the surroundings of your bathroom or kitchen. If you're still undecided about which one you should pick, let me help you.
You can opt for Delta, Moen, or SITGES for overall satisfactory performance. And for a pocket-friendly option, go for Hoimpro or Kingston Brass. In contrast,, SUMERAIN and VIGO are simpler and space-saving options.
And that's pretty much it. We hope this article helped you pick the best wall mount bathroom faucet. Happy shopping!